Back to top
Publisher - GeoPDF creation tool for use directly from industry leading GIS Software.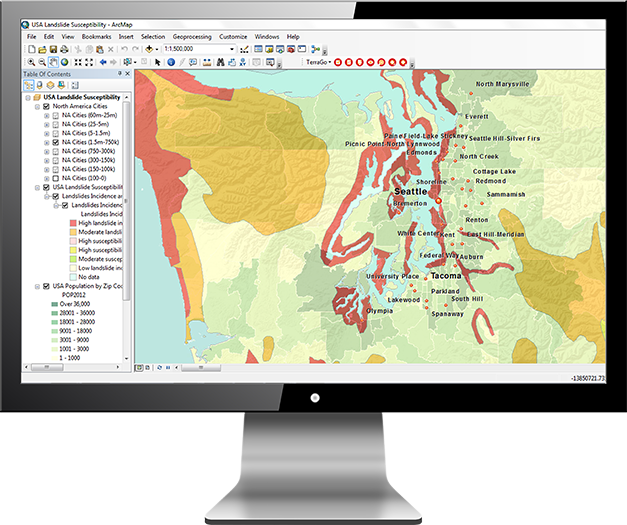 TerraGo Publisher® produces advanced geospatial maps and imagery and makes them portable. Geo-referenced pieces can be easily accessed by field workers and decision makers on mobile devices, and shareable so GeoPDF® users can access, update and share GeoPDF maps and imagery inside and outside the organization.
Highlights:
Sharing maps inside and outside the enterprise
Control GeoPDF layers and add hyperlinks
Receive updated map data from the field
Make maps accessible to anyone, anywhere
Maximize the value of GIS Infrastructure without the need for complex client software and training.
Publisher can produce GeoPDFs from a variety of data sources and is available as an extension tool for ArcGIS Desktop and ArcGIS Server. A version of Publisher for Raster is also available that helps companies meet the challenge of sharing large geospatial raster imagery with field workforces.
Composer – Creation and assemble tool for creating advanced GeoPDF products.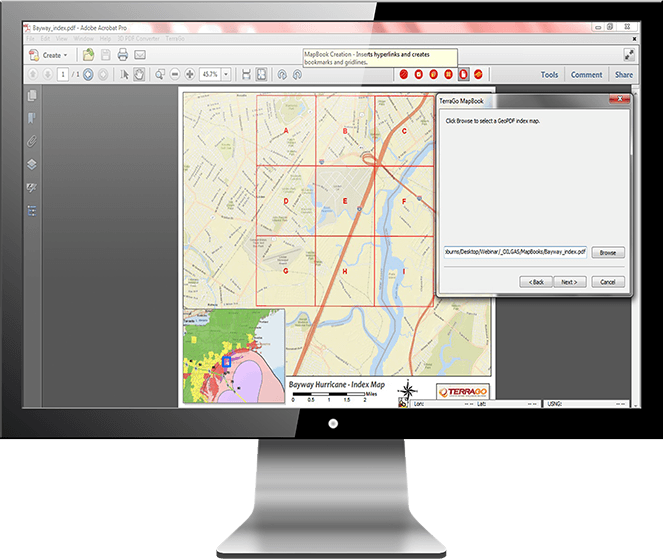 TerraGo Composer® enables organizations to create portable, interactive GeoPDF® maps and imagery, GeoPDF mapbooks and other applications that combine geospatial data, business logic and other features into a variety of mission-critical location intelligence products that support information gathering, deliver situational awareness and drive decision-making across modern enterprises.
Highlights:
Assemble maps from multiple sources into one GeoPDF mapbook
Seamlessly navigate multiple geoPDF maps quickly and easily
Convert any PDF-based map to a geo-registered GeoPDF map
Create an overview index map, with bookmarks for fast & easy Access
Convert existing PDF maps to GeoPDF with batch geo-registration
Create dynamic applications that interact with GeoPDF maps via geoJavaScript
TerraGo 3D Composer – Tool for creating interactive 3D GeoPDFs from popular 3D data and imagery sources.
TerraGo 3D ComposerTM for Adobe® Acrobat® enables the creation of 3D GeoPDF® models that can be easily accessed and shared by people without advanced training or complex software systems. Users can take LiDAR point clouds, digital elevation models, imagery, and 3D PDF models and create dynamic, interactive, three-dimensional TerraGo GeoPDF models.
Highlights:
Quickly and easily create and share 3D GeoPDF maps, imagery & models for extended geospatial collaboration for enhanced situational awareness
Geospatial collaboration with portable 3D GeoPDF applications
Rapidly create 3D GeoPDF models from elevation & imagery data
Interact, Rotate, and Analyze 3D models from within a 3D GeoPDF report (No complex software required!)
TerraGo Edge – Mobile Data Collection and Collaboration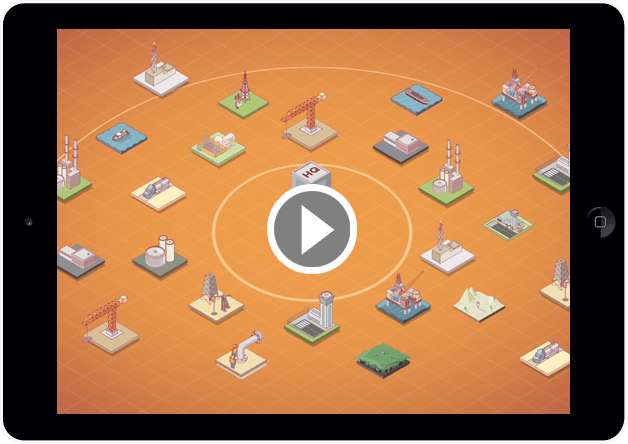 Collect Field Data from a Mobile Device and Synchronize Location Notes with Headquarters in Real Time or Asynchronously, Connected or Disconnected.
Highlights:
Server and mobile app solution with iOS, Android (coming soon) and HTML5 clients for universal access.
Capture notes, photos videos and more.
Synchronize project updates from team members
Manage projects, tasks, and locations centrally
Share digital notebooks with team
Create Custom Forms, Fields, and Templates to collect exactly what you need, when you need it.
Automatically geo-tag the location where your observations were taken to increase your data analysis potential.